Telescopes and monoculars
maxTV®
Art. Nr. 162411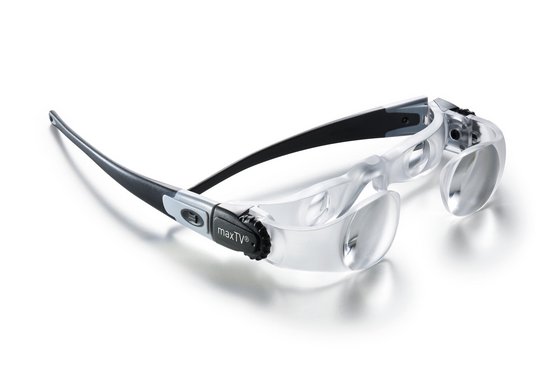 Product Benefits
Enables you to see the TV in double the size – particularly important when viewing small screens.
Relaxed viewing at any distance through individual focusing.
Lightweight, contemporary design; attractively priced solution.
Comfortable to wear and will not slip down during use due to easily adjustable temples.
Ideal for reading subtitles and all text on the screen.
Product Properties
Special low vision aid which doubles the size of the television screen.
Aspheric PXM® lightweight lens for a distortion-free image with edge-to-edge sharpness.
Large visual field (18°).
Extremely comfortable to wear.
With improved adjustment of dioptre compensation.
Temples can be adjusted without having to be warmed.
PD range 60-68 mm.
Main distance of use: 3 m.
Dioptre compensation: ±3.0 dpt, right/left can be separately adjusted, cylinder correction not possible.
Supplied in hard foam case.
Display and Optoform equipement available.
Technical data
Materials
| | | |
| --- | --- | --- |
| manual_maxTV_944442_04-21 | 934.9 KB | |