Stand magnifiers and magnifying lamps
system varioPLUS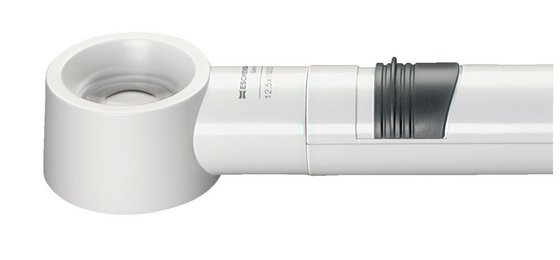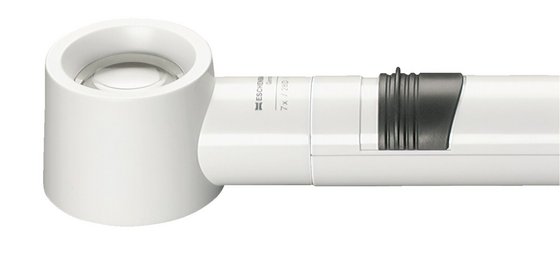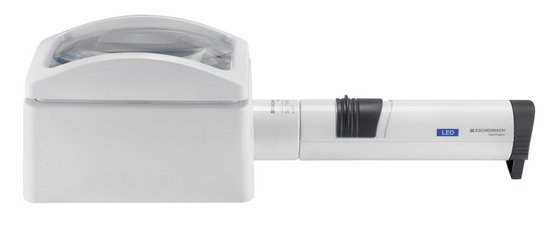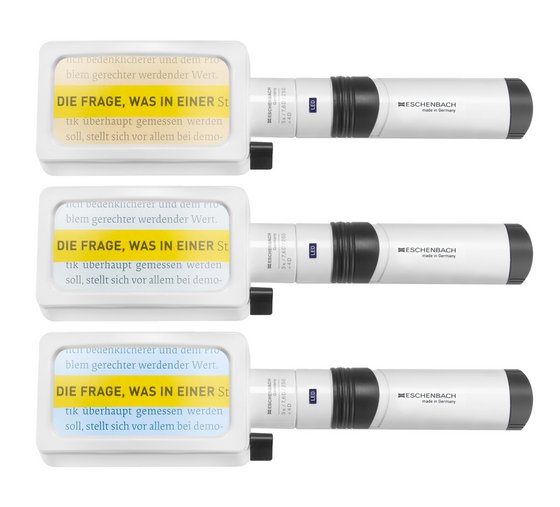 Product Benefits
Particularly suitable for reading over long periods of time and for users who cannot hold magnifiers freely (e.g. age-related shaking or Parkinson's disease).
Magnifier heads with a diameter greater than 58 mm (Item No. 15539-, 15549-, 15599-) are fitted with a retractable red reading line for easier line orientation and increased reading speed.
The rectangular magnifier heads (Item No. 15806-, 15826-) are equipped with a supplementary swivel lens for additional magnification.
Particularly scratch-proof lens with high visual comfort.
Choice of 3 different colour temperatures via filters.
Product Properties
Aspheric PXM® lightweight lens, cera-tec® coated for a
distortion-free image with edge-to-edge sharpness.
Details relating to magnification/ dioptre value/ recommended eye-lens distance are stated on all magnifier heads.
Bright, even illumination of the reading text provided by enclosed magnifier heads made from a light material.
To achieve a uniform reading distance, Eschenbach Optik recommends using the system varioPLUS in combination with a reading stand (Item No. 1605).
Product Accessories
Case: Item No. 15601, 15602, 15603
Materials
| | | |
| --- | --- | --- |
| manual_system varioPLUS | 2.2 MB | |
| manual_scale system varioPLUS | 461.3 KB | |
Variants
Name
product code
Dioptre
Notes
magnifier head
system varioPLUS
155073
38 dpt
Lieferung inkl. einsetzbarer Mess-Skala,Teilung 0,5mm und 1/64 inch
Lupentopf, lose
system varioPLUS
155074
38 dpt
Lieferung inkl. einsetzbarer Mess-Skala, Teilung 0,5mm und 1/64 inch
Lupentopf inkl. LED-Batteriegriff
system varioPLUS
155173
28 dpt
Lupentopf, lose
system varioPLUS
155174
28 dpt
Lupentopf inkl. LED-Batteriegriff
system varioPLUS
155273
24 dpt
Lupentopf, lose
system varioPLUS
155274
24 dpt
Lupentopf inkl. LED-Batteriegriff
system varioPLUS
155393
20 dpt
with retractable, red reading line
Lupentopf, lose
system varioPLUS
155394
20 dpt
with retractable, red reading line
Lupentopf inkl. LED-Batteriegriff
system varioPLUS
155493
16 dpt
with retractable, red reading line
Lupentopf, lose
system varioPLUS
155494
16 dpt
with retractable, red reading line
Lupentopf inkl. LED-Batteriegriff
system varioPLUS
155773
50 dpt
Lupentopf, lose
system varioPLUS
155774
50 dpt
Lupentopf inkl. LED-Batteriegriff
system varioPLUS
155993
12 dpt
with retractable, red reading line
Lupentopf, lose
system varioPLUS
155994
12 dpt
with retractable, red reading line
Lupentopf inkl. LED-Batteriegriff
system varioPLUS
158063
7.6 dpt
mit einschwenkbarer Zusatzlinse, 4dpt, 45nm-Kantenfilter, ergonomisch neigbarer Lupentopf
Lupentopf, lose
system varioPLUS
158064
7.6 dpt
mit einschwenkbarer Zusatzlinse, 4dpt, 45nm-Kantenfilter, ergonomisch neigbarer Lupentopf
Lupentopf inkl. LED-Batteriegriff
system varioPLUS
158173
11.4 dpt
Aplanat
Lupentopf, lose
system varioPLUS
158174
11.4 dpt
Aplanat
Lupentopf inkl. LED-Batteriegriff
system varioPLUS
158263
7 dpt
mit einschwenkbarer Zusatzlinse, 4dpt, 45nm-Kantenfilter, ergonomisch neigbarer Lupentopf
Lupentopf, lose
system varioPLUS
158264
7 dpt
mit einschwenkbarer Zusatzlinse, 4dpt, 45nm-Kantenfilter, ergonomisch neigbarer Lupentopf
Lupentopf inkl. LED-Batteriegriff